What Are Your Frames Made Out Of?
Acetate sunglasses
Our colored frames are made of premium cellulose acetate. Cellulose acetate can be produced in glossy colors and beautiful patterns; it also keeps its shape and sheen with age. We use some of the most sturdy hinges on the market to achieve lasting durability. We use recycled material for our solid colored frames.
Metal frames
Our metal frames are made of ultra-light stainless steel. A special nose pad offers a soft, anti-slip fit that is virtually pressure-free. For a final touch, we've used an innovative 'Ion Plating' technique that produces a solid durability, strength, and color richness.
Injection (Plastic) Frames:
Our high quality injection (plastic) frames are ultra light and with soft-touch coating for maximum comfort.
What Are Your Lenses Made Out Of?
CR 39 SUNGLASS LENSESES
We only use top quality 100% UV protection, Category 3, CR39 sunglass lenses in TIMELESS and MANHATTAN COLLECTIONS. CR39 sunglass lenses are much lighter compared to mineral lenses and much more impact resistant. These type of lenses are the ultimate in protection, comfort and performance in the sun.
POLYCARBONATE SUNGLASS LENSESES
We use 100%UV Protection, Category 3, Polycarbonate lenses in BROOKLYN COLLECTION. Polycarbonate lenses are highly resistant to impact, and are 6 times stronger than glass, making them ideal for sports glasses. Lightweight and thinner than glass lenses, polycarbonate is more comfortable to wear during physical activities such as driving, biking, water sports activities, etc..
POLARIZED SUNGLASS LENSESES
Polarized lenses are coated with a special film that helps reduce glare. Glare is caused when light from the sun is reflected off of water or a solid surface. By neutralizing glare, polarized lenses help you see objects more clearly, sharper and clearer, increasing visual clarity and comfort, and also help reduce the harmful effects of UV light.
BLUE LIGHT PROTECTION LENSESES
We use special Polycarbonate lenses filtering out 30% of the blue light emitted by digital devices that you use everyday, such as mobile phones, tablets, computer screens.
WHY DO WE NEED INCREASED UV PROTECTION?
Wearing sunglasses causes your pupils to dilate reflexively in order to let more light into your eyes. If your sunglasses don't provide 100% UVA and UVB protection, you risk exposure to increased levels of the damaging rays that can cause macular degeneration, cataracts, and vision loss. Quality lenses offer complete and permanent UV protection to keep your eyes safe and healthy.
How Are Your Production and Quality Standards?
In our factories, many high-end global fashion brands' sunglasses are produced in world standards and sold to the markets such as USA, Japan and EU countries. We collaborate with top raw material manufacturers to identify the most innovative materials and techniques to ensure excellence in quality. We constantly put in quality control steps into our design and manufacturing process to ensure a perfect customer experience.
How Can You Offer Such High Quality Sunglasses At These Prices?
We are very proud of our frames and lenses, the only reason they cost less is because we use a business model to cut out the middleman in the supply chain. So we are different in two aspects: 1. We're independent and we create our own designs. We don't partner with licensing companies which control the market and keep prices artificially high. We refuse to charge outrageous prices for our frames. 2. Our e-commerce platform allows us to sell directly to our customers. We are very happy to be transferring the savings on to you!
Where Can I Find My Frame's Measurements?
On each product page, the frame measurements are listed as three numbers. The first number refers to the width of one lens in millimetres, the second number to the width of the bridge, and the third to the length of one of the temple arms.

Most glasses (including all of Eye Connection frames) have these numbers printed on the inside of the temple arm.
How To Choose Best Fit For Me?
SIZE GUIDE: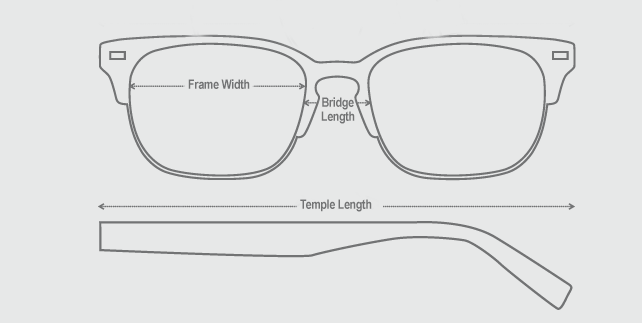 Follow the example above - The three numbers indicating the size of the frame are: 50-20-140. Use these numbers to shop on our website. Here are a few tips to help you choose your best fit: The bridge size is very important! If you choose a wide bridge and you have a narrow nose your glasses will be worn pretty low on your nose and vice versa. If you think you have a larger than average head, you should purchase frames with a minimum temple length of 140mm. The total frame width measure is a good indication of how large the whole frame will look on you. Simply grab a ruler, go to your mirror, and compare the total frame width to the width of your face. This will show you whether the frames are a good size for your face.
My Frames Don't Fit Perfectly. What Should I Do?
We want you to love your new Eye Connection sunglasses. If your frames don't fit properly or you have any other concerns please call us or email us at info@eyeconnection.com as soon as possible so that we can help. If you live in Istanbul, please feel free to come by and see us at our offices and our store. If this is not convenient please call us on +90 212 260 70 00 and we will arrange for a return or advise on options to ensure you get the perfect fit! Our sunglasses are only available in one set size, but we'd be happy to recommend a style that might fit you better. Adjusting your frames' temples is also another easy option to improve the fit.
How Can I Create A New Account?
You can create a New account by clicking on the "LOG IN" button on the top part of eye connection.com Home Page. Sign up to start shopping right away and check out faster. Creating a new account is free of charge!.
Why Should I Create An Account?
You can easily filter the sunglasses you like and add them to your cart; get updates on the status of your orders; receive information about ongoing campaigns and customized promotions.
Can I Do Shopping Without Creating An Account?
You can do shopping on eyeconnection.com without having to create an account.
How Can I Update My Account Information?
After you login with your user name and password, you can go to MY ACCOUNT / ACCOUNT INFORMATION section to edit your account details.
I Forgot My Password. What Should I Do?
Just click on the "forgot your password" link on the "Log In" Page. We'll send you an e-mail with a link to reset it.
I Changed My E-mail Address. What Should I Do?
Log in and go to MY ACCOUNT / ACCOUNT DETAILS section to change your e-mail address.
What's The Status of My Order?
You can check the status of your order by visiting MY ACCOUNTS - MY ORDERS Page in our website. You can also contact us by phone at +90 212 260 70 00, Monday–Saturday, 10:00 a.m.- 7:30 p.m. or via e-mail at info@eyeconnection.com.
When Will My Glasses Arrive?
After your order is approved, the delivery may take between 2-4 business days. Shipping usually takes between 7-10 business days for international orders.
What If I Need To Change My Order?
We usually ship the orders very quickly, but we will do our best for any request on changing or cancelling an order. Please call us at +90 212-260 70 00, Monday–Saturday, 10:00 a.m. - 7:30 p.m. or mail us at info@eyeconnection.com as soon as possible. If your product is already shipped, you will need to return it together with the original invoice. Please note that we do not accept returns for international orders.
Can You Make Gift Wrapping For My Order?
We are very happy to arrange a gift wrapping for your order. After your order is approved, please send us an e-mail together with your Order Number and the special message you want to send to the recipient, or call us at +90 212 260 70 00.
Do You Have International Shipping?
We ship everywhere in the world!
What Is Your Return Policy?
We have a 14 working days return policy for all of our collection within Turkey. Unfortunately we don't accept returns for products that are shipped to other countries. The information in this section is applicable for returns within Turkey only!
How Do I Set Up A Return?
You can return a product "free of charge" within Turkey by filling out the back side of the invoice. Please make sure you fill out all the requested details and sign it with your name. You can use Yurtici Kargo, which is our contracted shipping company in Turkey, with our Account Name and Number: EYE CONNECTION PAZARLAMA VE SATIŞ A.Ş 309923654 for a smooth process. The cost of the shipping for the return will be covered by us.
What Are The Conditions For Return?
If you live in Turkey and you decide to return a product(s) please make sure that package of the product(s) is not damaged and all of the content of the package are sent back with no pieces missing. Product(s) must be unused and undamaged. Product(s) must be complete with the original package, including all accessories. You need to fill out the return document on the back side of your invoice and sign it. The product(s) which is damaged which is not re-sellable and which is missing its original accessories will not be accepted as a return, and it will be sent back to you with shipping charges to your name. Our Return Policy may be revised depending on the changes on the regulation 4077 "Code Regarding Protection of Consumers" in Turkey. You can reach most updated information on our website in Return Policy section.
What Is The Address For Returns?
EYE CONNECTION PAZARLAMA VE SATIŞ A.Ş - Hüsrev Gerede Caddesi, Tesvikiye Firin Sokak, No: 4 34365 Sisli/ İstanbul... Phone: +90 212 260 70 00... E-mail: info@eyeconnection.com.
In How Many Days Can I Return A Product?
If you decide to return a product for any reason, you can return it 14 days after you purchase it with the condition of making sure that the product is undamaged and is re-sellable. If you exceed this timing, the return cannot be accepted. When we receive the returned product, you will be notified immediately with an e-mail and the return process will start.
When Should I Expect The Payment After I Return A Product?
We make the payment for the return 10 days after the product's conditions are verified as acceptable for return and the whole amount is wired into your credit card. This timing is completely dependant on your bank and eyeconnection.com has no right to interfere with the process and procedures of your bank. In case you paid with instalment options, your bank will repay in instalments as per banking procedures.
What Should I Do For Other Questions Regarding Returns?
For any other question you might have regarding returns, please don't hesitate to contact us on our phone number +90 212 260 70 00 Monday-Saturday between 10:00-19:30, or simply drop us an e-mail at info@eyeconnection.com. We would love to know why you want to return your product.
What Does Shipping Cost?
We offer free delivery within Turkey for purcheses 175TL and more. If you choose same day delivery option within Istanbul, its cost is 30TL. International shipping costs change according to the country of the delivery.
Which Shipping Company Will Deliver My Order?
Your order will be delivered by Yurtici Kargo in Turkey. For same day delivery option, we work with Banabi Kurye. For international shipments, we work with big international shipping companies such as DHL, UPS, FEDEX depending on the country.
When Will I Receive My Order?
After your order is approved, the delivery may take between 2-4 business days for shipments within Turkey and 2-7 days for international shipments. If you choose courrier option, we offer same day delivery for orders before 5pm in work days.
How Will I Know That My Order Has Been Shipped?
After we ship your order, you will be notified with an e-mail together with tracking number.
My Order Arrived When I Wasn't At Home. What Should I Do?
For orders within Turkey, in case your order cannot be delivered, Yurtici Kargo leaves a note at your door which has the telephone number of the branch office where your product is. You can follow up the status of your order by calling this number. If you don't collect your order in 3 days, it will be returned to www.eyeconnection.com.
Do You Have International Shipping?
We ship everywhere in the world! For all locations outside Turkey – the client is responsible for all custom duties and taxes. Our company is not responsible for lost packages. We do not ship to PO Box or APO box.
How Much Does International Shipping Cost And How Long Does It Take?
We offer free shipping and free returns for orders within Turkey. For international orders, shipping cost changes according to the country you live. You can see the total cost before buying your product. Shipping usually takes between 2-7 business days for international orders. Time is estimated in business days only – week-end, holidays, customs clearance, etc, are not included. The client is responsible for all custom duties and taxes. Our company is not responsible for lost packages. If you have any questions regarding the shipping of your order, please contact us at info@eyeconnection.com.
What Are The Payment Options?
We accept credit card and debit card payments options for orders within Turkey, as well as international orders. You can also make payment via bank transfer for orders within Turkey. All details are mentioned on payment step.
Your payment is 100% secured. Our payment page complies with the PCI DSS (Payment Card Industry Data Security Standards) and your information is protected with an SSL encryption. Our company does not store any credit card data on our server.